Testimonials
See below what the others are saying about Tutor Master publications:
Tutor Master Story Writing Book Series
A particular area of concern expressed by both parents and students was the fact that story writing was difficult, especially when the family background was one where English was not the first language.
Dear David,
I have used your book "Tutor Master helps you Write Stories Book Two" in my English class with great success. I am very interested in buying your other books in the same series. Is it possible to buy these through the Internet or via mail?
What I also find very helpful with your book is how the pupils get helped into parting the story into three and get ideas on how to write the beginning and the end, which normally is the most difficult parts for them to write in a proper way.
I am very interested in buying your other books in the same series. Silje Nielsen, English Teacher
Your books are perfect for my needs. They will be a huge help as I'm teaching Year 7 creative writing - not easy! Alice Band – English Teacher and Western Morning News Columnist
View more testimonials
My son has just turned 9 and is a typical boy in that he finds English a challenge and could do with a little help! I have recently purchased one of your books, which I have found very useful. Natasha – Parent
I am trying to purchase your Tutor Master helps you Write Stories Book One.  I have Book Two but I really need Book One to help my daughter. Your books are very helpful and practical.  My daughter really struggles with writing stories.  She is in year 5 and I really don't think she gets much help from the teacher. Caroline – Parent
This book provides very good points and guidance to help my son with his writing. I find this book very helpful, easy to use and would recommend this to anybody who wishes to see improvement in their child's writing style. Kristina – Parent
This book is a great tool to encourage children to write stories with confidence. It gives them enough information to set them on the way without doing it for them. In addition it covers skills needed for writing prose as they go. David – Parent
I found this book really useful. The stories that I wrote really helped me to get into Henrietta Barnett and they are still helping now that I'm doing my GCSE's. I constantly look back on the stories to give me good ideas as to what to write for the 'Describe' section of my English paper. The book's great! Yui
My son used the book extensively as he prepared for his 11+ entrance exams. He found its clarity and structured approach enormously helpful and got the place he wanted. I'd recommend it for 11 year-old boys. Will's Dad
I found this book very helpful in getting me to write structured stories. It guided me in writing a story properly from the beginning to the end and not getting lost within a story. The book helped me with my entrance exams and I definitely secured my place at the independent school I really wanted to go to because of the story I wrote which I practised from the book. Kian
An outstanding book for children ranging from eight to eleven years, who find English compositions or creative writing a particular weakness. I started using this book at the age of nine and realized how rapidly my story writing was improving. There are twenty story plans written in simple, but informative English, making them easy to understand and follow. This book gives an exceptional help to those who struggle on the structure of stories, which affected me greatly. It brought up my confidence in writing essays, both short and long. It has definitely helped me pass my eleven-plus and over the three years of using it. I would strongly recommend it. Deena
This book is great. I used it in order to help with my English story writing and it has helped me to get into Latymer. It gives ideas on how to write each paragraph but leaves enough room for creativeness to shine through the choice of vocabulary, allowing you to advance your own creative writing skills while using a few prompts to help get you started on each paragraph. Excellent book to buy. Brandon
Brilliant, particularly for children who find story writing a challenge. Lots of ideas to help them get started and then sustain their writing. The 20 story plans are open and accessible, allowing for different outcomes so that children of differing ages and abilities are able to produce a story and show their skills.I liked using it so much I bought a copy for a friend who was struggling to support reluctant writers in her primary classroom & now she's recommending it too! Pupils who struggle to get started find the scaffold offered by the story plans extremely helpful...and they're so proud when their story turns out well. Calum
Hi David, Thank you for replying so promptly to my email. However, I managed to track down a copy from Foyles on line. Waterstones of Hampstead did have one copy of book 2 though, which I snapped up at once. I eagerly await book 1 of which I am sure will be of use to my children as myself. J. Ross
I think that the Tutor Master Book 1&2 has helped me improve my stories because for my practice SATs I got a Level 5 for my stories. Perhaps I might get a higher mark for my real SATs. It has also been interesting writing the stories. U.S.
I found David's books helpful because it taught me how to write stories step by step properly. It also made me more grateful and now I can write stories without his books but by the way it is taught in the book. From V. (aged 10)
The book has helped me think of many good ideas and has made me creative. I used to hate writing stories but now I like writing them. I know good vocabulary. Learning new words has helped me at school as well. From H. (aged 11)
The book has really helped me by making me think creatively. It gave me lots of ideas to write fantastic stories, and it gave me the main ingredient a story needs to have. From B. (aged 11)
I think that the Tutor Master's Book 1&2 have been very useful to me as they have expanded my stories even better and have given me better ideas and better feelings to add. I guarantee that they are very good. From T.G.
These books have helped me a lot at school. I am improving very well and my teacher is quite impressed with my stories. Also in the exams, similar topics will come up so I can link it to the books. These books are fantastic. From S.I. (aged 11)
Dear David,
I have recently purchased one of your books, which I have found very useful... Natasha
We used these books as preparation for my son's eleven plus exams and they proved to be invaluable. The books are extremely easy to follow and are a very good guide on how to write stories on a very wide variety of topics most of which genre do come up as questions in entrance exams. I would highly recommend these books not just for those who are preparing for the exams but for all children, as they will learn to write stories to a very high standard. My son found the story element of the exams very straightforward and not at all stressful and I would put it down to these books as they gave him the confidence to write good stories under time pressure. The discipline of planning and writing that comes from following the books has also helped him to continue to produce good quality pieces of work now that he is in secondary school.H Patel
On recommendation, I decided to order a copy of this book for one of my children from my local bookstore. Not only did it significantly improve his ability to structure his stories, the bookstore obviously liked it so much that they've now made it a core book. In my view, this book represents excellent value for money. Ali
Hide more testimonials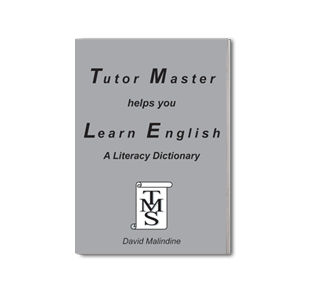 Tutor Master helps you Learn English - A Literacy Dictionary
A book written to improve understanding of words and terms to do with English and literacy. Aiming to promote personalised learning, this book is easy to use, helpful and student friendly and supports teaching and learning for students of primary age upwards.
I am absolutely thrilled and delighted to receive your book; it is the best book of its kind that I have ever seen. I shall use it forever. Thank you so very much.
I took your book to my placement school and the head of English wants copies - she thought it was fantastic. It really does cover every word that flummoxes us all.. Alice Band – English Teacher and Western Morning News Columnist
View more testimonials
This is a great little book which explains the meaning of all those funny little words you were never taught in English at school (or at least if you went to my school your weren't), but your kids now are. Well worth keeping a copy on the bookshelf. Mark Parsons
I think your new book is great. I am wondering whether you have promoted it to local schools... If not do you have any promotional material available so I can show it to the Head of English? Rosemary
Hide more testimonials
Tutor Master helps you with comprehension
Through his work as a private tutor David Malindine was alerted to the fact that there was a lack of realistic examination papers that parents and students could use to practise for entrance examinations at aged 11+.
I used this book to help my daughter with her up coming entrance exams. The book contains 5 test papers and 10 compositions. The comprehensions are based on well known stories which was a great way to introduce her to comprehensions . The book is well laid out with a variety of question styles . The questions are clear and unambiguous. They are clearly devised to test the child's ability rather than to trick the child. The papers increase in difficulty as you progress through the book. The book has been a great confidence booster for my daughter. Shalinee
Highly recommend this book. Very well designed, clearly laid out and fantastic practice for entrance exams, eleven plus and general English improvement. There are 5 papers and 10 compositions, with answers, as well as a mark scheme which my son found so useful. Writing under timed conditions can be difficult but the mark scheme helped nudge us in the right direction. If there's one book you buy, it needs to be this one! Sarupa
View more testimonials
Brilliant! Engaging, well-structured practice to help those preparing for exams, as well as for those who simply wish to enhance their reading skills. Very user-friendly as it works well for independent learning and for those working with support-great value for money too as for the price of similar 11+ materials you get 5 comprehension tests plus a choice of up to 10 compositions to write as well. Mary – Head of English
The Tutor Master's 30+ years of teaching and tutoring are really evident in these papers that are designed to allow average students to gain some marks and the brightest to score more; as they would do in real 11+ exams. Ruth
Great value for money (compared to similar paper sets) with not only 5 comprehension passages and questions but the added bonus of up to 10 compositions for each child to attempt. I like the book idea as it means papers don't get lost and there is plenty of space for the child to write their answers.
We used these books to help our daughter with her English SATs and she achieved Level 5 which delighted us all. Money well spent. dadoftwo
There really aren't enough multiple choice papers for pupils to practise on for the 11+. These papers are a very useful addition and are graded fairly to allow all children to achieve some marks. Chetna
We found the tips for preparing for comprehensions and compositions very useful and practical plus the information on who the book is for all clear concise and helpful in our exam preparation. Yadush's mum&dad
I found the Tutor Master books just about right in helping me prepare for my special grammar school entrance exam. They were very easy to use and set out clearly. There is plenty of space to write out the answers and the composition task differ in variety: letters, speech, stories and reports. It has given me a lot of opportunities to show my different skills in comprehensions and compositions. Rathy
Hide more testimonials

-->